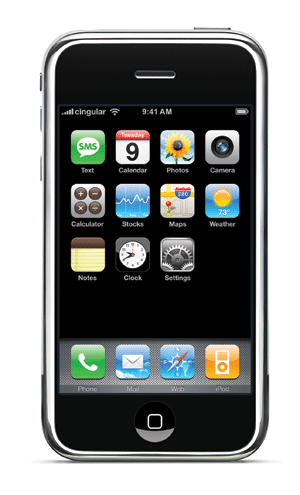 I've recently bought an iphone and it's been a big hit. I've had mobile phones that outweigh it in terms of factors like the onboard camera which is a bit basic in the Applephone but the cunning elegance of the design has totally won me over.
The device's unique selling point is the appstore which has lots of games and useful functions you can quickly and painlessly install, usually for nothing or a small fee. Over at
Urban 75
there's a discussion about which of the applications people have tried out, but for the record here is mine so far:
I use twitterfon for twittering about the lido temperature with
Tricky Skills
(free)
Wunderradio for all my internet radio listening - haven't tried it in 3G yet but it seems to work pretty well next to wifi - (it's a few quid)
Bloomberg to watch my shares fall and get all my nerdy business news (free - and a really impressive app)
accuweather (free) but it claimed it would rain on sunday and it was lovely.
Skype (free) but i only know one other person who skypes. And you can only use it in wifi areas - for now, at least.
Tubedelux ( a few quid) or Tube Status (free) for checking the alarmingly frequent times the Viccie line is paralysed. But as Helen points out, you cannot use it underground.
A whole load of free news apps - I like the New York Times, the Wall Street Journal, BBC News... the iphone is very well served by free apps for news, which is great because I'm a news junkie.
Facebook, natch. Free.
Urbanspoon: a free restaurant review app which offers you a new place, local to you, when you shake the phone.
Audioboo. the very trendiest twitterati do this, it being a kind of audio tweeting. Free.
Cylon Detector. For detecting whether your boss is actually a cylon. They frequently are. 59p.